JW8200 Water jet loom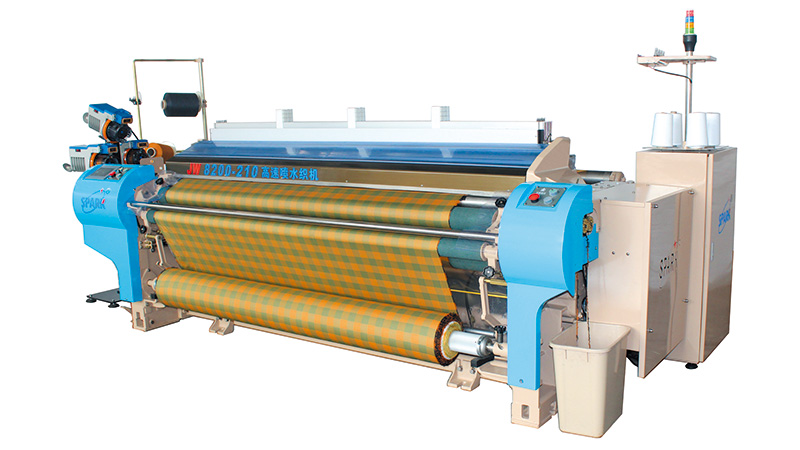 The JW8200 high-speed water jet loom features a higher production efficiency than the JW400 and JW822 water jet looms, with a shift weft density and weaving speed.
The water jet loom features an integrated machine rack, high machine rigidity, advanced electronic control system, stable weft insertion and a beating up mechanism. Four- or six-link crank beating is available. The water consumption of the JW8200 water jet loom is 30% lower than other looms. This water jet weaving machine is suitable for weaving hydrophobic fabrics, medium-weight and heavy fabrics and industrial textiles with plain, twill, satin or jacquard weaves. Spark's state-of-the-art water jet loom is also able to weave heavy fabrics up to 600g/m2.
Features
The water jet loom is designed with an electronic let-off mechanism, double back rest and eccentric beating shaft to maintain tension on weft and warp yarns, making the water jet loom appropriate for weaving of high-density heavy fabrics.
Slow stop, super-fast startup and electronic compensation for the shed allow the water jet loom to perform shifting weft density and speed weaving.
The water jet loom features a super-fast start-up motor, large-capacity electromagnetic brake and fixed-position stop function.
An advanced control computer ensures the loom's high rotation speed with a low energy consumption. New nozzle types are used to reduce the water consumption by 30% compared to other models.
Technical specifications
| | |
| --- | --- |
| Application | Denier water resistant chemical fabric,fabric up to 600g/m2 |
| Breadth(cm) | 190, 210, 230, 280, 340, 360, 380 |
| Designed speed | 600~1300RPM |
| Weaving Range | Filament: 20 D- 1350 D |
| Weft selection | 1 color, 2 colors, 3 colors or 4 colors |
| Loom beam disc diameter (mm) | 800 |
| Roller Diameter (mm) | 550 |
| Shedding | Plain shedding , Positive cam shedding, Dobby shedding |
| Beating up | Double connection rod assembly four-bar beating-up |
| Selvedge | Raw edge, mechanical tuck-in selvedge |
| Let-off device | Electronic let-off |
| Take-up | Electronic take-up |