YC9000 Air jet loom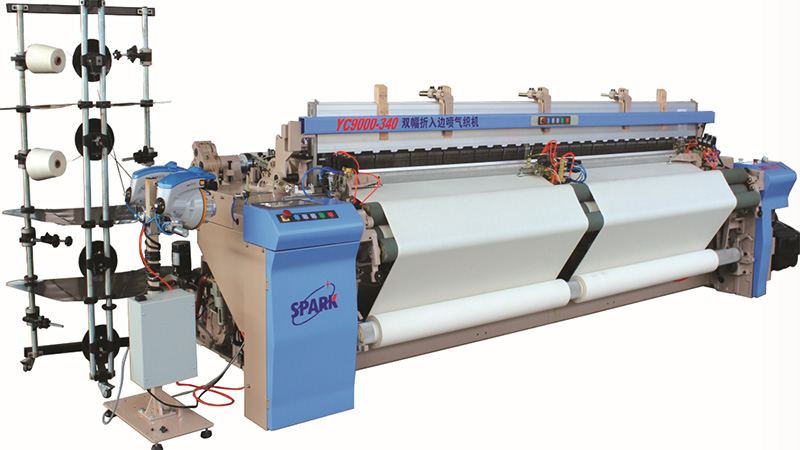 The YC9000 air jet loom is an efficient weaving machine, capable of achieving a high-speed selvedge folding in combination with weaving functions. The fabric selvedge folding unit cuts the woven fabric through the middle, then folds up the four edges to create four smooth and flat hems. The air jet weaving loom features a high working efficiency, stable performance, and precise time control, making it ideal for processing medium-width fabrics. This air jet weaving machine meets the needs of fabrics with complex structures and aesthetics.
Features
The pneumatic fabric selvedge folding unit can create a folded hem with a narrow width of 0.8cm. Compared to mechanical selvedge folding devices, the pneumatic device reduces the air consumption by 30% and improves the efficiency by as much as 95%.
The advanced electronic control system ensures easy operation while four different weft insertion modes allow the air jet loom to adjust according to various production needs, thus significantly improving production adaptability and flexibility.
Powerful 64-bit CPU provides precise synchronous device control, including let-off and take-up mechanisms. Optimized taper angles on the sub nozzles allow for a faster and more stable weft insertion at a lower air consumption.
The electronic control pneumatic selvedge folding system can adapt to different selvedges (no rough or waste selvedge). The air jet loom delivers an excellent weaving efficiency at a lowest air consumption, greatly reducing your weaving cost.
Machine specifications
Item
Specifications
Spare Parts
Reed Width
Nominal
150, 170, 190, 210, 230, 250, 280, 340, 360, 390
 
Effective
Nominal: 0~60cm (150-250) 0~80cm (>280)
 
Weaving Range
Short fiber: ne 160-ne 2.5 Filament: 22 D- 1350 D
 
Weft selection
1, 2, 3, 4 & 6 Colors
 
Motor
Start mode
Super speed start
 
Press the start/stop button to slow action forward/rear
 
Press the link& start button at the same time to start
 
Power
2.8kw, 3.0kw, 3.7kw, 4.5kw, 5.5kw
 
Weft insertion
Method
Main nozzle+ Swing Nozzle+ Sub nozzle+ U type reed
WBS(Weft brake system)
Control
Import high frequency sub nozzle/ computer program control
 
Sub nozzle
Integrated flow sub nozzle
 
Feeder
Electric control loop feeder
Balloon prevent device
Beating
Beating motion
Dual oil bath box type 4-bar/ 6bar/ eccentric beating motion
 
Solid beating system
 
Multi support brick and balance weight
 
Shedding
Crank/ Plain shedding
 
Cam shedding
 
Electronic Jacquard shedding
 
Dobby Shedding
Upper dobby shedding
Let Off
 
Electric servo let off
Double Warp Beam
Dual back beam
 
Positive/ negative let off
 
Flange dia.
800, 914, 1000 mm
 
Take up
Take up
Electric servo/ mechanical take-up
 
Fabric rolling
Inside rolling (Max. 600mm)/ Outside rolling
 
Temple
Upper/ underneath
 
Selvedge
Dual sides planet selvedge/ electric
 
Lubrication
Motion box is oil bath, others are centralized lubricating
 
Shut down device
Weft breakage
Reflecting double sensor W1, W2
 
Warp breakage
Control system warp break detector, LED display
 
Others
Selvedge yarn/ yarn end break stop motion
 
Shutdown display
Screen display, multi- function shutdown display lights
 
Weft cutter
Mechanical cutter, electronic cutter
 
Electric control system
High resolution large VGA color touch display, DSP motherboard, WIFI connect.