YC700 Air jet loom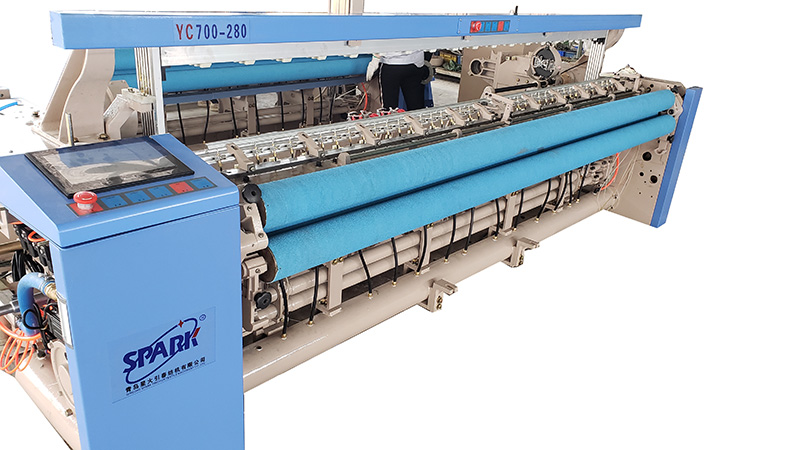 The YC700 air jet loom is a special weaving machine used for the production of glass fiber fabrics. Developed using the YC600 air jet loom as the base, this air jet weaving machine features a durable and stable box-type wall structure and a multi-support weight balanced beating system. To meet the production needs for woven glass fiber fabrics, the back rest has been changed, with a special yarn cutter and air suction device added. The air jet weaving machine is suitable for the production of thermal insulation material, fire-proof cloth, insulated PCB substrate, etc.
Features
The back rest has been altered to meet glass fiber weaving needs.
A special yarn cutter and an air suction device have been added.
The high-speed response solenoid valve and optimized air jet control system are equipped to reduce the air consumption by 35%.
The high-speed weft insertion system consists of a TOYOTA 810 main nozzle, swing nozzle and sub nozzle.
Different take up and let off options are available to meet different customer production requirements, including electronic let off, electronic take up, mechanical let off and mechanical take up. For the shedding mechanism, crank shedding, cam shedding, dobby shedding or electronic jacquard shedding are optional.
Machine specifications
Item
Specifications
Spare Parts
Reed Width
Nominal
150, 170, 190, 210, 230, 250, 280, 340, 360, 390
 
Effective
Nominal: 0~60cm (150-250) 0~80cm (>280)
 
Weaving Range
Glass fiber
 
Weft selection
1, 2, 3, 4 & 6 Colors
 
Motor
Start mode
Super speed start
 
Press the start/stop button to slow action forward/rear
 
Press the link& start button at the same time to start
 
Power
2.8kw, 3.0kw, 3.7kw, 4.5kw, 5.5kw
 
Weft insertion
Method
Main nozzle+ Swing Nozzle+ Sub nozzle+ U type reed
WBS(Weft brake system)
Control
Import high frequency sub nozzle/ computer program control
 
Sub nozzle
Integrated flow sub nozzle
 
Feeder
Electric control loop feeder
Balloon prevent device
Beating
Beating motion
Dual oil bath box type 4-bar/ 6bar/ eccentric beating motion
 
Solid beating system
 
Multi support brick and balance weight
 
Shedding
Crank/ Plain shedding
 
Cam shedding
 
Electronic Jacquard shedding
 
Dobby Shedding
Upper dobby shedding
Let Off
 
Electric servo let off
Double Warp Beam
Dual back beam
 
Positive/ negative let off
 
Flange dia.
800, 914, 1000 mm
 
Take up
Take up
Electric servo/ mechanical take-up
 
Fabric rolling
Inside rolling (Max. 600mm)/ Outside rolling
 
Temple
Upper/ underneath
 
Selvedge
Dual sides planet selvedge/ electric
 
Lubrication
Motion box is oil bath, others are centralized lubricating
 
Shut down device
Weft breakage
Reflecting double sensor W1, W2
 
Warp breakage
Control system warp break detector, LED display
 
Others
Selvedge yarn/ yarn end break stop motion
 
Shutdown display
Screen display, multi- function shutdown display lights
 
Weft cutter
Mechanical cutter, electronic cutter
 
Electric control system
High resolution large VGA color touch display, DSP motherboard, WIFI connect.