JW408 Water jet loom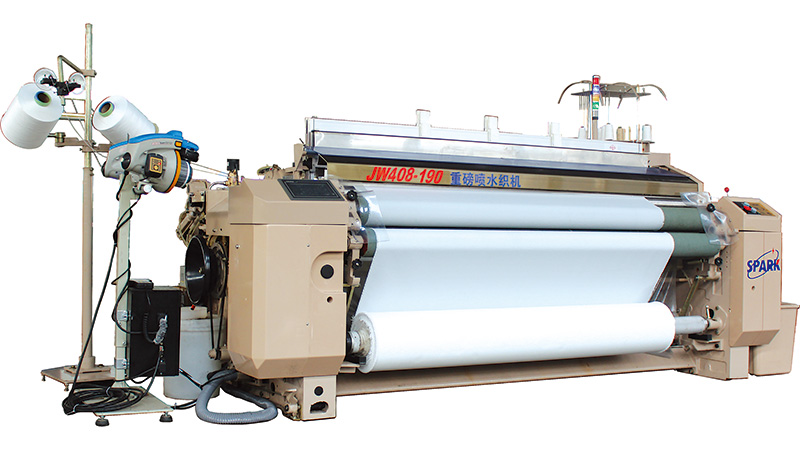 Spark's JW408 water jet loom features an innovated machine structure and moving parts, as well as highly integrated mechanical components and an electronic control system. Compared to the JW822 water jet loom, the JW408 water jet loom's rotation speed is higher at speeds of up to 900RPM. The water jet weaving machine provides higher versatility and operation functionality for manufacturing light and medium-weight fabrics.
Features
The beating mechanism has been improved to provide a greater machine vibration and noise level reduction, while significantly increasing machine stability and durability.
Separating the nozzle holder allows users to individually set the position and direction of each nozzle.
The water jet loom is equipped with a large-capacity electromagnetic brake and super-fast start-up motor (i.e. the motor can start up immediately to a normal speed).
A new energy-efficient nozzle reduces water consumption by up to 15%.
Technical specifications
| | |
| --- | --- |
| Breadth(cm) | 150, 170, 190, 210, 230, 280, 340, 360 |
| Designed speed | 600~900RPM |
| Power | 2.2 KW, 2.8KW, 3.7KW |
| Weaving Range | Filament: 22 D- 1350 D |
| Weft selection | 1 color, 2 colors, 3 colors or 4 colors |
| Loom beam disc diameter (mm) | 800 |
| Roller Diameter (mm) | 550 |
| Shedding | Plain shedding , Positive cam shedding ,Dobby shedding |
| Beating up | Double connection rod assembly four-bar beating-up |
| Selvedge | Raw edge, mechanical tuck-in selvedge |
| Let-off device | Electronic let-off |
| Take-up | Electronic take-up |