YC920 Air jet loom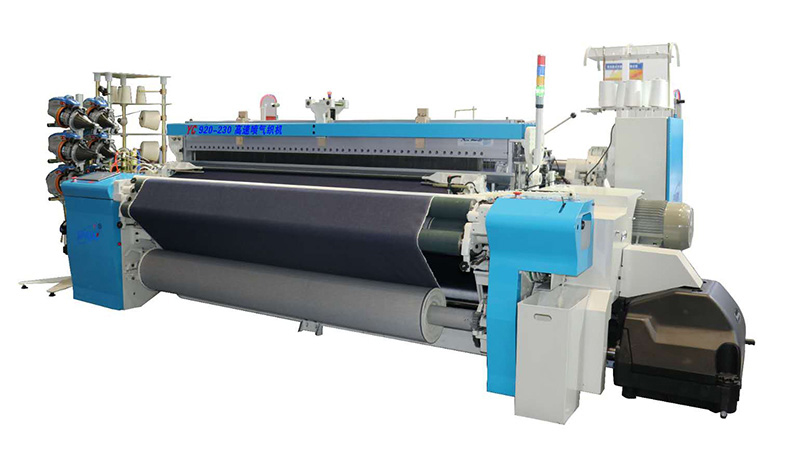 The YC920 high speed energy saving air jet loom features a maximum rotation speed of 1000RPM, delivering an excellent performance in reducing vibration and air consumption while four weft insertion modes improve the versatility and flexibility of the air jet loom.
This weaving machine has been optimized to greatly improve the rotation speed and uses an eccentric beat-up mechanism to reduce the loom vibration by as much as 35% at high speeds, thereby enhancing the running stability and reliability.
In addition, Spark has upgraded this air jet loom's air channel system, thus improving air supply pipe adaptability, and reducing the air pressure difference between the static and dynamic pressure to 0.2Pa. This has also improved the air jet's stability and increased the weft insertion success rate. This weaving machine features an energy saving performance, decreasing air consumption by 10%, while also cutting down on purchasing costs associated with air compressors and air piping systems.
The beating up angle and warp yarn position are both adjustable, thus adding clearness and fullness to woven fabrics, making it suitable for woven denim fabrics, apparel cloth as well as industrial fabrics. The air jet loom works better with heavier yarns than it does with light yarns.
Features
A DSP (Digital Signal Processor) system is used by the air jet loom, and features a fast calculation and transmission speed, with an excellent anti-interference performance, thus improving the rotation speed by 20% and decreasing the energy consumption by 40%.
The air jet loom is equipped with a high-speed responsive solenoid valve and optimized air jet control system, saving 40% more air consumption than other similar equipment.
The advanced electronic control system ensures an easy operation, while 4 different weft insertion modes allow the air jet loom to adjust according to production needs, thus significantly improving production adaptability and flexibility.
Machine specifications
Item
Specifications
Spare Parts
Reed Width
Nominal
150, 170, 190, 210, 230, 250, 280, 340, 360, 390
 
Effective
Nominal: 0~60cm (150-250) 0~80cm (>280)
 
Weaving Range
Short fiber: ne 160-ne 2.5 Filament: 22 D- 1350 D
 
Weft selection
1, 2, 3, 4 & 6 Colors
 
Motor
Start mode
Super speed start
 
Press the start/stop button to slow action forward/rear
 
Press the link& start button at the same time to start
 
Power
2.8kw, 3.0kw, 3.7kw, 4.5kw, 5.5kw
 
Weft insertion
Method
Main nozzle+ Swing Nozzle+ Sub nozzle+ U type reed
WBS(Weft brake system)
Control
Import high frequency sub nozzle/ computer program control
 
Sub nozzle
Integrated flow sub nozzle
 
Feeder
Electric control loop feeder
Balloon prevent device
Beating
Beating motion
Dual oil bath box type 4-bar/ 6bar/ eccentric beating motion
 
Solid beating system
 
Multi support brick and balance weight
 
Shedding
Crank/ Plain shedding
 
Cam shedding
 
Electronic Jacquard shedding
 
Dobby Shedding
Upper dobby shedding
Let Off
 
Electric servo let off
Double Warp Beam
Dual back beam
 
Positive/ negative let off
 
Flange dia.
800, 914, 1000 mm
 
Take up
Take up
Electric servo/ mechanical take-up
 
Fabric rolling
Inside rolling (Max. 600mm)/ Outside rolling
 
Temple
Upper/ underneath
 
Selvedge
Dual sides planet selvedge/ electric
 
Lubrication
Motion box is oil bath, others are centralized lubricating
 
Shut down device
Weft breakage
Reflecting double sensor W1, W2
 
Warp breakage
Control system warp break detector, LED display
 
Others
Selvedge yarn/ yarn end break stop motion
 
Shutdown display
Screen display, multi- function shutdown display lights
 
Weft cutter
Mechanical cutter, electronic cutter
 
Electric control system
High resolution large VGA color touch display, DSP motherboard, WIFI connect.